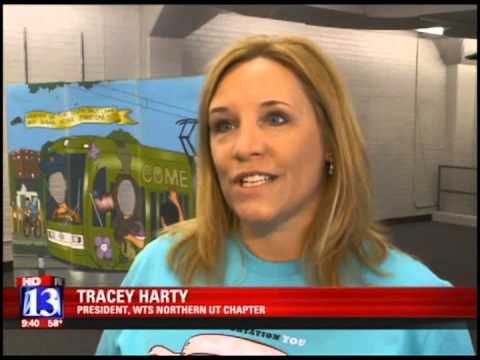 The WTS Northern Utah launched its Transportation YOU initiative with a day-long transportation summit on May 22, 2013.
The day began with the arrival of 42 6th – 8th graders from two participating schools: a charter school focused on science education and a public school. Upon arrival the girls received commemorative t-shirts and goodie bags filled with nearly two dozen gift items, including transportation-themed word puzzles, bracelets promoting safety at train and light-rail crossings, bike trail maps and pant-leg straps, and Transportation YOU pins.
The summit kicked off with presentations and hands-on activities as the girls were taken through the general concepts of transportation planning to the details of one particular transportation project – the new Sugar House Streetcar line. As we proceeded through the day, the girls learned about planning and environmental issues surrounding the streetcar line, design of the line, its construction, and what will be required to operate and maintain the line. The girls then engaged in hands-on activities such as using air photos to identify land uses and environmental challenges and plan alternatives; designing a section of the streetcar line given engineering and environmental constraints; and identifying safety considerations during construction.
Most of the speakers and volunteers helping with the activities were women who had worked on or were still working on the streetcar
project. Following the activities, the students received a safety briefing and took a short walk down the street to the location where the streetcar line is being constructed. Led by a member of the construction team, the girls—adorned in hard hats, safety glasses, and safety vests—viewed the challenges of construction first-hand, the components that go into building the line, and the environmental constraints around the work site. They even got to see what happens when construction crews encounter a subsurface utility they weren't expecting.
The event concluded with students from the University of Utah Student Transportation Group, Point B, asking the girls to describe their typical day and how transportation factors into it. The event drew a lot of attention from the community; local political leaders and others stopped by to watch for a while, and the media covered the event, too. Check out an article that appeared in the press and a television news segment about the day, BELOW!